Home Wild Fire Equipment
Powerful Tools and Equipment to help you defend your home and property against wildfires.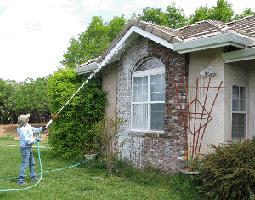 FOAM-FASTTM Solid Cartridge CLASS-A Foam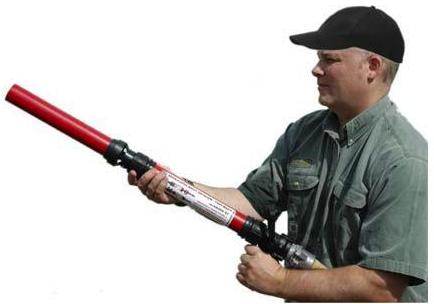 Technology used by Fire Fighters.
Now available to Homeowners.
Class-A foam has been used for decades by professional firefighters. Class-A foam facilitates wetting of Class-A fuels (wooden structures, shrubs, trees, etc.) by lowering the surface tension of the water and assisting with the water's saturation of the fuels. Foam-Fast makes water more effective at extinguishing fires by 'wetting' the water to make it penetrate better, evaporate slower and block the oxygen feeding a fire. Foam-Fast is an easy-to-use, affordable, Class-A foam applicator for pre-treatment during the threat of wildfire or while performing other hazardous activities such as managing burn piles, mowing or weed trimming.
By using Foam-Fast you can extend the usefulness of a limited water supply and make your fire protection system 3-5 times more effective than with plain water alone.
Simply place a foam cartridge in the applicator, attach the applicator to a hose, and you're ready to operate!

For more information, see the Class A Foam Fire Fighting Guide or see the demonstration video on our
YouTube Channel: http://www.youtube.com/watch?v=JrMpBNlycOM
See the Foam-Fast FAQs and Warranty page.